Changing Careers? How to Shift Your Personal Brand
This post was sponsored by Squarespace, which makes it easy for anyone to build a personal brand online. Use the code CONTESSA for 10% off of your site.
Overhauling your personal brand—especially online—can take a lot of work. 
While it may seem like unnecessary work, a personal rebrand is just what you need to kickstart that career change, taking it from a pipe dream to reality. Let's start with why:
It'll help you get started: By changing your online presence to reflect your new direction, you're shifting your focus from where you are to where you're going. Perfect for overcoming that career change paralysis—once you and your online presence look the part, you'll start to feel the part
It'll connect you with like-minded professionals: Making new friends is hard enough, but making new professional connections in a completely new industry? Ugh. But by regularly engaging on issues in your new industry and communicating with key influencers online, you'll create more connections—and learn more—than you could through cold emails and coffee chats.
It'll sell those relevant skills: A personal site provides the perfect home base for you to showcase your past work—and frame it in a way that promises value in your new industry. And when your recruiters are interested in your resume, they'll go to your site and see even more examples of your awesome work. That's what closes the sale.
It'll prove your personal investment: Once you've psychologically committed to your career change, you'll need to convince recruiters of that. With a personal brand that's tailored to your new industry, you show that you're not just committed to your new field, but you care enough to educate yourself on it. Major brownie points.
So shifting your personal brand is super important, which might seem to put the pressure on. Good news: it's easier than it seems. In these five steps, you can tweak your online presence to articulate your new goals and get you where you want to go.
Think About How You've Changed
You're just changing your job title, not your entire identity. Even if your interests have evolved since you began your career, you probably have the same core values, beliefs that defined your personal brand. So those same qualities should stay in your brand. But obviously, something has changed. You're switching industries because something about your current job just doesn't jive with your personality anymore. To explain why you're changing industries, you'll need to tap into that "why." The more authentic, the better, So rewind to that moment when you realized, "This job just isn't working for me anymore." What happened? What changed? And most importantly, what does that say about your values, professional goals, and mission? Why are you going through all this work in the first place? Your answer will reveal the personal values and strengths that you'll need to stress through your personal brand.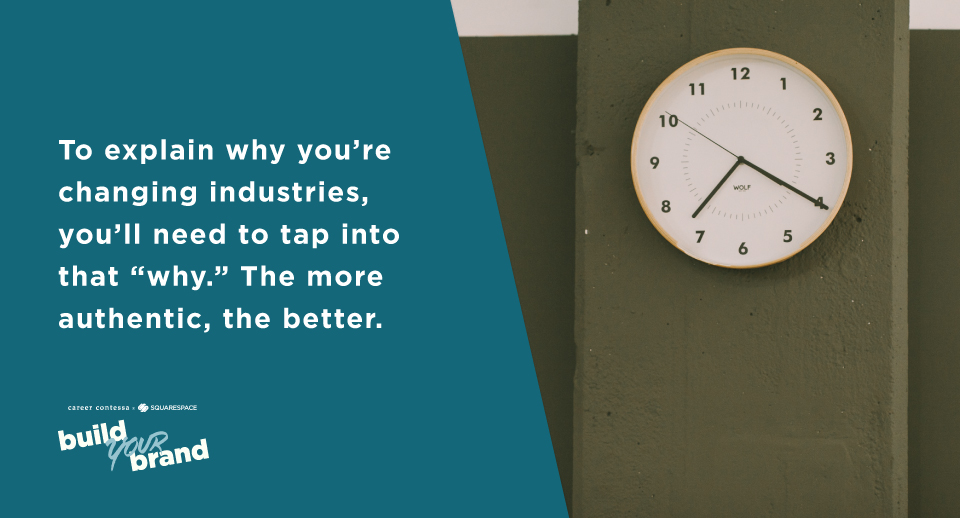 Next, Identify and Leverage Your Transferable Skills
When you're trying to twist all of your old experiences into "relevant skills" for your new industry, all of those projects, clients, and achievements from your old job might feel useless—or like a complete mistake. Years of work completely down the drain. Don't write off those "unrelated experiences," though. They're actually going to set your personal brand apart from everyone else in your new industry. Think about all of the people in your new field who have been there since college graduation. They've spent years doing the same things to break into the same industry, so they probably all look the same. They've got the same entry-level jobs, the same social media game, probably even the same expertise (project management training, anyone?). But since you've spent all that time in a different field, that "unrelated experience" is your differentiating factor. Once you identify it, think about how it'll add value for new employers—and play it up in your personal brand. Let's say that you're a marketing whiz who's transitioning to journalism. Compared to your competition, you've got some serious analytical chops, which will help you pick stories that attract audiences and advertisers. Drill into your value proposition—the single thing that distinguishes you from all the other resumes in your industry—and sell that through your brand.
Now, Rewrite Your Story
Put yourself in a recruiter's shoes. You're hiring for an HR rep, but a resume with six marketing jobs pops up. Unless the cover letter explains their career change, it'd seem like the person pressed the wrong button on the website or just doesn't take the position seriously. Your personal brand will act like your cover letter—it should already tell the story of how your core values, skills, and professional experiences have prepared you for your current job. Now you need to add a new chapter—one that ties your personal values to your changing desires, new goals, and your relevant skills. Your story needs to answer three main questions:
What are your core values and beliefs shape you as a person and professional?
How have your professional interests and passions evolved since you started your old job—and how will your new industry meet those goals? The key here is demonstrating that you've done your research.
What transferrable skills have prepared you to succeed in your new industry?
Stories say more than a blanket list of skills and projects ever could. Tie all of your values, evolving interests, and relevant skills into one story and you'll sell your whole interesting, fabulous self to recruiters.
Get Industry-Appropriate
Since you're selling your skillset and self to a new audience, you'll need to tweak your online presence accordingly. Use research and informational interviews to learn the personal branding standards in your new field. How do their portfolios and personal websites look? How active are they on social media? What are they talking about and which platforms are most popular? How about their tone and vocabulary? Look up influencers in your target industry for some inspiration. Depending on how dramatic your switch is, you might not have to change your current online presence too much. Going from journalism to marketing might not take much more than emphasizing different projects on your portfolio. But if you're moving from finance to freelance writing? You'll probably need to make your social profiles public, add some color and compelling photography to your portfolio, and start engaging more often in your field of expertise. Once you know the general rules of your new field, you'll be better prepared to establish credibility, make connections, and get a job.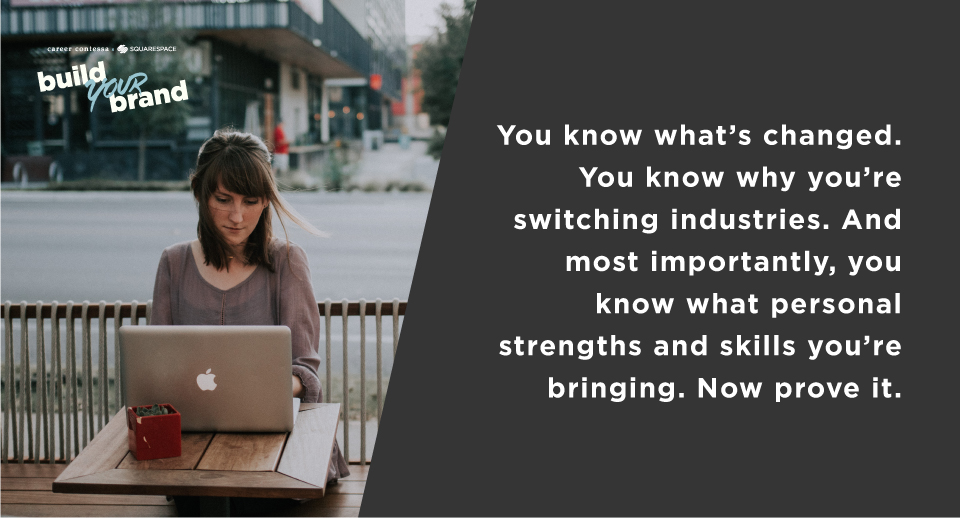 Sell Your New Professional Self
You know what's changed. You know why you're switching industries. And most importantly, you know what personal strengths and skills you're bringing there. You're ready—now prove it with your online presence. Step number one? Setting up a portfolio site on a platform like Squarespace (use the code CONTESSA to get 10% off). Then go through your various platforms one by one.  The same basic logic of personal branding applies here: make sure your visual elements stay consistent throughout, keep it safe for work, and all spellcheck all the time. But each social platform comes with its own rules, which we break down here.  And seriously, hit spell check.
Editor/Author/By: Kathleen McAuliffe
Source: www.careercontessa.com